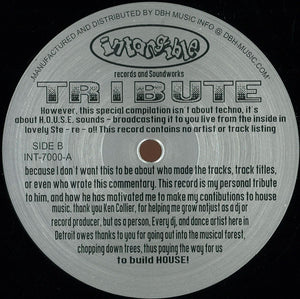 Terrence Parker - Tribute To Ken Collier (INT-7000)
Regular price $15.00 Sale
Repress!
On the label (A-Side):
This special release is dedicated to Detroit DJ Legend Ken Collier. His untimely passing deeply touched me personally, as he was one of a small few who always supported me & my music. Because of Ken Collier, Detroit developed a dance scene, which inspired artist & producers to make dance records, which gave birth to Techno, which has provided careers for many of you in the business today. So I dare ask all you techno producers, djs, record labels, record shops, techno magazines, clubs which play techno music, and fans of techno to pay respect to Ken Collier just as you would our other fine music innovators.
Side B:
However, this special compilation isn't about techno, it's about H.O.U.S.E. sounds - broadcasting it to you live from the inside in lovely Ste - re - o!!. This record contains no artist or track listing because i don't want this to be about who made the tracks, track titles, or even who wrote this commentary. This record is my personal tribute to him and how he has motivated me to make my contributions to house music. Thank you Ken Collier, for helping me grow not just as a dj or record producer, but as a person. Every dj and dance artist here in Detroit owes thanks to you for going out into the musical forest, chopping down trees, thus paving the way for us to build HOUSE!.
"In Loving Memory Of Detroit DJ Legend Ken Collier"