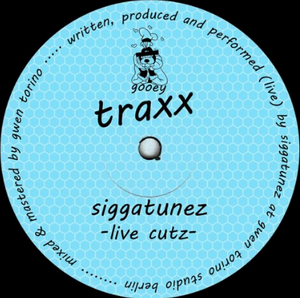 Siggatunez- Live Cutz (GOOEYTX001)
Regular price $14.00 Sale
-4 raw live jams by Siggatunez-
written, produced and performed (live) by Siggatunez at gwen torino studio berlin, mixed & mastered by Gwen Torino
As the debut release on Gooey Traxx, Siggatunez steps up with his 'Live Cutz EP'. These tracks are extracts of his current live; a raw and unpolished sound that captures the energy and spontaneity of the real time performance, performed, and recorded at Gwen Torino Studio Berlin.
'Getting' Love' is a vibrant house cut that captures the essence of summer with a blissful ambiance that transports you to a sun-kissed dancefloor. A deep bassline and infectious rhythm keeps the energy flowing. Its melodic elements intricately crafted, blended with soothing chords, spoken word and atmospheric textures to create a sense of euphoria and upliftment.
'Movin' takes you on a wild journey with its rough and energetic sound. Driven by its impulsive beats, the composition cleverly combines a minimalistic approach with skilful production resulting in a powerful sonic ride.
'By Your Side' blends breakbeat with harmonic elements. It's positive vibe, catchy hooks, and vocal sample transport the listener to a captivating and uplifting musical space.
'Trust Me' is an electrifying composition that captivates with its powerful and energetic nature. This EP combines the hypnotic allure of electronic music with the rhythmic power of breakbeats, resulting in a deeply immersive and exhilarating experience.