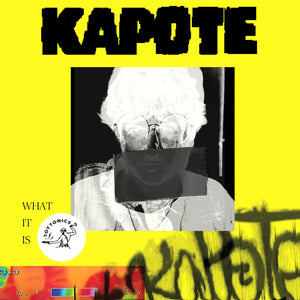 Kapote - What It Is (2nd Version) (2LP) (toyt0902)
Regular price €25.00 Sale
2nd VERSION
Special Remarks:
Tracklist 2x12":
A1 Jaas Func Haus
A2 The Body Move (Album Version)
B1 Brasiliko
B2 The Nose (Album Version)
C1 Salvation (Album Version)
C2 Fuck Music (Album Version)
D1 Fusion 79
D2 Get Down Brother (Album Version)
D3 L.O.V.E. (Album Version)
Toy Tonics brings back the Kapote album. 10 dancefloor tracks originally released 2019 on the "What it is" album. Now reworked, re edited and with 2 new tracks.
House music, but with a heavy jazz-funk, brasil, lofi - influence. A mood that reminds early Moodymann, Kerri Chandler or 1990ies Paris stuff. Loft Disco and Indie House.
When this album came out originally 3 years ago it caught the attention of many great DJs. DJ Harvey was playing "Jaas Func Haus" a lot at Pike in Ibiza and Gerd Janson, Motor City Drum Ensemble, Kenny Dope and Blessed Madonna were filmed playing other tracks from the album.
Kapote doesn't release much music as he is mainly involved in the Toy Tonics label development, creative direction and is also in many productions of other artists that release on Toy Tonics. Originally a piano and art student, he later discovered DJing, nightlife, electronic music and by now is doing what he does with Toy Tonics with a couple of friends and like-minded producers.
Kapote's real name is Mathias Modica and if you google this you will find out he has been doing music before Toy Tonics under the name of Munk. Doing another label called Gomma Records. Where he and some friends already created a little universe based on electronic music, street art, DIY culture, shirt design, underground exhibitions. Mathias aka Kapote aka Munk has produced and released records with artists like Peaches, James Muprhy and Nancy Whang of LCD Soundsystem, The Rammellzee and WhoMadeWho. This is the past. The future will be new Kapote stuff currently in the making with Cody Currie and Sam Ruffillo. Meanwhile check out WHAT IT IS – 2nd VERSION.