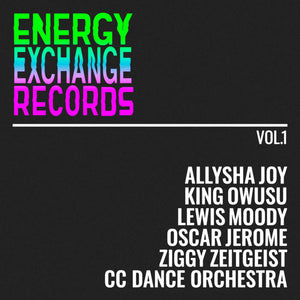 Energy Exchange - Energy Exchange (EXRECLP002)
Regular price €23.00 Sale
Bursting into the summer with a vibrant and dynamic debut album, Energy Exchange Ensemble (EX Ensemble), assume their position as innovators of contemporary organically engineered dance music inspired by collaboration and that "special sauce" born from improvised jam-style musicianship.
Energy Exchange Records Vol 1. pays homage to the transcultural projects curated by iconic label, ECM, capturing the impassioned spirit of spontaneity. Delivering a fully realised debut deeply rooted by a core house band that facilitates a flow of many ideas to take shape in an innovative form, where amorphous sound reigns supreme.
Recorded in three cities over 12 months, EX Ensemble spawned from numerous impromptu after hours sessions under the guidance of the Energy Exchange Records production team, united by a passion for transcendental experiences on the dancefloor, driven by a kind of retro-futurism, where analogue meets futuristic soundscapes, and instruments made of wood, steel and animal skins are fused with the elusive realm of electronic music.