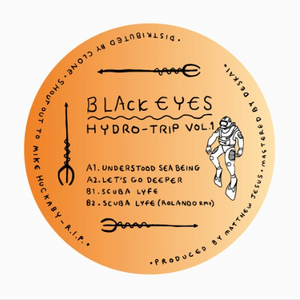 Black Eyes - Hydro-Trip Vol. 1 (inc. Rolando Remix)(LC2097004)
Regular price $13.00 Sale
A1 - Black Eyes - Understood Sea Being 6:45
A2 - Black Eyes - Let's Get Deeper 6:36
B1 - Black Eyes - Scuba Lyfe 7:20
B2 - Black Eyes - Scuba Lyfe (Rolando Remix) 7:11
Head hydro-tripper Black Eyes has risen from the depths of the deep to release his debut solo record Hydro-Trip vol 1. Fresh off the sea creature's back from co-producing the 'Planet People - Terra Firma EP' with synth botherer Reedale Rise which came out earlier this year. His solo endeavour takes us on a jazzier vibe yet still keeping true to the deep ways of the water.
Lead track 'Understood Sea Being' plunges us on a rugged ride with deep Detroit chords and Black Eyes's own punk-like vocals throughout. 'Let's Get Deeper' slows the pace up with chopped up samples and introduces us to the classic hydro-trip sound we've grown to love down here in the underwater cities; it's deep and trippy. 'Scuba Lyfe' picks up the pace a bit but evolves into a low down dubby groove mixed with some hi-tek jazz. Asking Rolando (who we all know was part of the infamous Underground Resistance and Los Hermanos, as well being a Berghain resident DJ more recently) to come on board the subterranean vessel was an obvious choice for remix. He switches the gears and adds some fluid Detroit techno to finish off the EP. Berlin based Deskai masters the EP who also mastered the Planet People EP so you know what to sonically expect.
This EP has been in the making for some years and we are happy to finally share the way of the hydro-trip with all you land dwellers. As per usual with anything hydro-trip related; scuba gear in heavily encouraged when listening this EP. Let's keep it deep! 🌊🤿
Distributed by Clone. Available in vinyl and digital formats.
Mastered by Deskai in Berlin.
Shout out to Mike Huckaby, RIP!