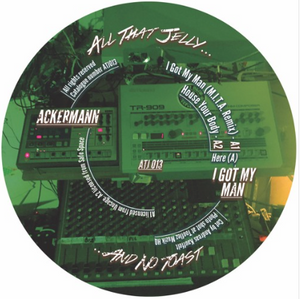 Ackermann - I Got My Man (ATJ013)
Regular price $16.00 Sale
Tracklisting (in order):
A1 – I Got My Man (M.I.T.A. Remix) A2 – House Your Body
B1 – I Got My Man (Original Mix) B2 – Ooohh I Love It
Andres Klein alias Ackermann hails from beautiful Stuttgart and has been in the music producing biz for about 20 years. He's been running is own imprint Traktor records for a long time, churning out House, Techhouse, Techno and anything in between.
His tune "I Got My Man" got remixed by italian Mattia Borriello aka M.I.T.A. for Marco Faraone's Uncage label. This tune got heavy play by quite a few A-list Techno DJs around the globe, one of them Answer Code Request who couldn't stop dropping that diva drama belter in his sets in "The Big House" in East Berlin.
That's where it caught All That Jelly label head Mr. Fonk's ear and so it had to get pressed on hot waxxx!
The 12" is accompanied by two equally cheerful Techno slammers with a groovy House edge. You're gonna love 'em!