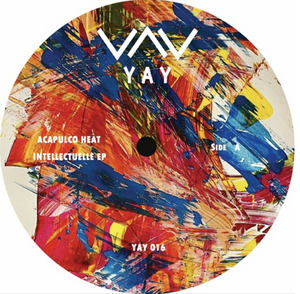 Acapulco Heat - Intellectuelle EP (YAY016)
Regular price $16.00 Sale
A new perspective is coming from the beaches of Acapulco bay.
Colourful shirts and sensual moves in the shade of palm trees. Presenting the new extravaganza duo "Acapulco Heat". Comprised of none other than Felipe Valenzuela and new wonder boy, Ossios.
3 tracks to embody different moments and occasions for a set full of mindfulness and unique vibes.
Serious but not so serious, futuristic but present, "Intellectuelle EP" will make you surf your inner self. Direct hit for the body with an innovative consistency.
Undeniably timeless music to keep in your mind and in your record bag.
Extra bonus remix by american producer Titonton Duvante.
Tracklist
A1. Intellectuelle
A2. Spaguetti Incident
B1. Gonna Do And Do It More Now
B2. Gonna Do And Do It More Now (Titonton Duvante FLiP)