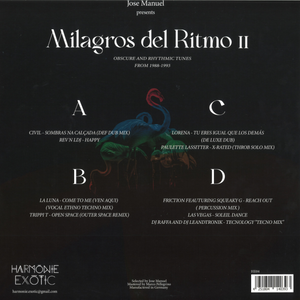 Jose Manuel pres. Various Artists - Obscure And Rhythmic Tunes (HE04)
Regular price €29.00 Sale
There are still some pearls of dance music from the late 80's to early 90's that have remained in obscurity and have gone unnoticed or at least there has been no special attention, so Jose Manuel has dug deep as he already did in the first chapter of the compilation " Milagros del Ritmo ".
Among the annals of releases between '89 and '93 Jose has found pearls that he wanted to encapsulate in the second chapter of " Milagros Del Ritmo II ".
Nine tracks among which we find : Come To Me (Ven Aqui) by La Luna produced by Erik Kupper, where percussion and Latin influences dominate over a house beat, then there is Teknology by Dj Raffa, a well known Brazilian Dj, followed by Lorena with Tu Eres Igual Que Los Demás (De Luxe Dub), where the beat vaguely recalls Los Niños Del Parque by Liaisons Dangereuses.
This second volume of "Milagros Del Rirmo II " cannot be missed by DJs who love and play the retro sound.